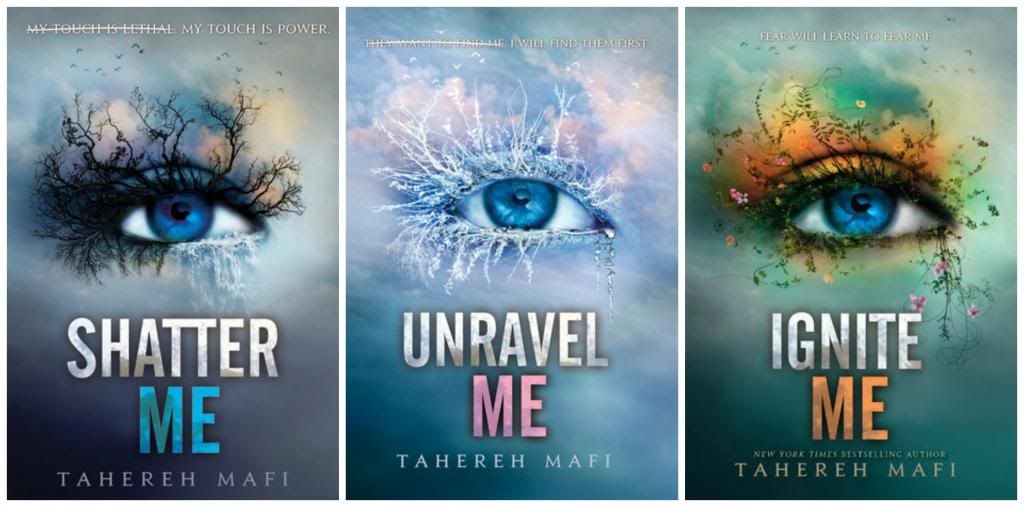 Series:
Shatter Me
Author:
Tahereh Mafi
Books:
Shatter Me, Unravel Me, Ignite Me
Series Rating:
4.75/5 stars- fangirling is appropriate for every page
Book #1's rating:
4.5/5 stars- beaaaautifuulll writing
Book #2's rating:
4.5/5 stars- TEAM WARNER WOOOOOO
Book #3's rating:
5/5 stars- the heavens are singing to me about the perfection of this
Synopsis of Shatter Me (as found on Goodreads):
Juliette hasn't touched anyone in exactly 264 days.
The last time she did, it was an accident, but The Reestablishment locked her up for murder. No one knows why Juliette's touch is fatal. As long as she doesn't hurt anyone else, no one really cares. The world is too busy crumbling to pieces to pay attention to a 17-year-old girl. Diseases are destroying the population, food is hard to find, birds don't fly anymore, and the clouds are the wrong color.
The Reestablishment said their way was the only way to fix things, so they threw Juliette in a cell. Now so many people are dead that the survivors are whispering war – and The Reestablishment has changed its mind. Maybe Juliette is more than a tortured soul stuffed into a poisonous body. Maybe she's exactly what they need right now.
Juliette has to make a choice: Be a weapon. Or be a warrior.
Review:
FANGIRL REACTION (Yeah I'm not wasting any time on this)
*********************************************************************************
Shatter Me: THE WRITING. Excited!
*also met Tahereh Mafi after that one so DOUBLE YAY
Unravel Me:
WARNER JUST RAN AWAY WITH THIS THING. I THINK IT'S MY HEART. HOW DID THIS HAPPEN.
Ignite Me: I CAN'T HOW AM I LIVING WHY ARE YOU DOING THIS TAHEREH WHY ARE GIVING US MORE REASONS TO LOVE HIM WHY DO YOU PUT THIS AGONY ON US WHY ARE YOU AMAZING HOW DO YOU WRITE THESE LINES HOW.
*********************************************************************************
Yeah. So my parents joked about calling the asylum because of the noises I was making reading Ignite Me.
I'M SANE OK
ok ok so first
This series is so beautifully written. I don't know what it is about Tahereh Mafi's writing, but something about it absolutely enraptures you; you can't let it go. She has these descriptions that are OUT OF THIS WORLD. They capture what you feel so perfect; sometimes it's a feeling you didn't even realize that could be put down in words. That can be even possibly be so beautifully describe. It's a magnificent breath of air.
Honestly, it's what really keeps me going on this series.
If you read the series for what it is... I would've given up if it wasn't for the writing.
BUT NO NO LISTEN IT'S ALL OK
Shatter Me brings an interesting premise to the story, a lot of questions, and some... interesting characters. I was upset that Juliette seem so... weak. The romance seemed. Cliche. Not seemed it WAS. It wasn't bad. A lot made up for it.
Unravel Me... it almost further enraged me to know the extend of Juliette's POSSIBLE bad-assery YET she didn't embrace it because... yeah.
BUT THEN WARNER APPEARED AND SOMEHOW TWISTED EVERYTHING AROUND AND SOMEHOW MADE ME LIKE HIM AND WHAT WAIT WHY ARE YOU CARRYING AWAY MY HEART
THEN.
Ignite Me WAS THE BOMB.
IT WAS EVERYTHING I EVER HOPED FOR.
The romance was EPIC. AMAZING. FANGIRL WORTHY. BREATHLESS.
The characters kicked in and I was. Oh. Oh.
AND JULIETTE WAS BAD. ASS. LIKE. INVINCIBLE.
It was an amazing moment of plot twist and character growth and it was like explaining to me
"no no trust me I made you mad for a reason so I can take your frustration now and throw it in the air and like explode it into this pretty firework and it's all amazing and gorgeous now wait was your heart in that firework"
...
So yeah.
I'm still in disbelief that this happened. That it ended... leaving me with no dissatisfaction? Am I just dreaming that something so perfect was written?