Drama:
I Hear Your Voice
Network:
SBS
# of episodes:
18
Rating:
4.5/5 stars- I just adopted a new puppy or something
Synopsis (as found on Wikipedia):
The series is a combination of courtroom drama and romantic comedy with elements of fantasy. After overcoming poverty and a difficult childhood, Jang Hye-sung becomes a lawyer, specifically a public defender, but she is pragmatic, self-preserving and jaded. Her life changes when she encounters Park Soo-ha , a high school boy with the supernatural ability to read other people's thoughts by looking into their eyes, and cop-turned-lawyer Cha Gwan-woo who is cheerful and idealistic, though a bit of a dork. Soo-ha gained his mind-reading ability after witnessing his father getting murdered ten years ago. His father's death had initially been dismissed as a car accident until Hye-sung, then a high school girl , gave decisive testimony in court despite the killer's threats, and Soo-ha has been searching for her ever since. As Hye-sung works with Soo-ha and Gwan-woo, she gradually lets go of her pursuit of money and glory. Together, this unlikely team use unconventional methods on their cases, proving that while sometimes justice is blind to a fault, she can still hear your voice.
Review:
After hearing the raving reviews on the movie and how cute it looked and sounded, I decided to give I Hear Your Voice a try.
Even though it took me like three months to finish it (due to me taking like a 2 month break) it was an enjoyable ride through and through. The main character is a character with immense character growth, from an annoying, jaded, unreasonable woman to someone who really see things deeper than the surface with a strong sense of justice. It's incredible to watch, along side with her co-star, WHO IS EFFING ADORABLE.
Seriously guys, I was wondering if he was like half puppy or something cause you cannot say no to this guy when he makes that face. Literally.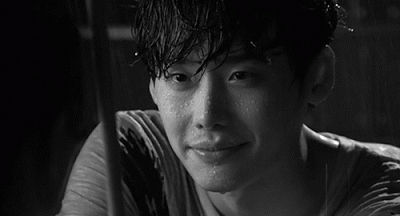 At the same time, he managed to portray a wide wide spectrum of emotions- everything from revengeful, to deeply, madly, in love, to completely irrationally insane. It was exciting to watch, as the emotions were splayed onto the screen so honestly and raw.
Although I wasn't totally sold on their romance, they had chemistry together as characters together on screen and just wow. The moments that were meant to be deep and heart moving sold me completely.
The cast worked together in a perfect symphony and harmony, bringing the story to life and carrying their roles through.
Lawyer Cha was almost equally adorable, although I almost wish he didn't become so serious midway...
As for our villain... a villain worthy of hate. Yet he wasn't evil for the sake of being evil. The plot actually explains and gives you reason, and almost sympathy for his past, and what has shaped him this way. It's not a crappy OMG YOU DROWNED MY HAMSTER reason, it's deep and it's personal and it's melds into the plot, giving it complexity and depth.
I was impressed with the plot, although sometimes a bit slow in terms of certain cases they were dealing with, brought tension in the right pacing, and gave good character development, while balancing the cute, funny moments with the scary, tense moments.
The soundtrack was also brought in beautifully to enhance the drama, not to heavy, but just as background.
Honestly, I'm just really impressed with the writing and the acting of this drama- poignant yet tense, something hard to do at the same time. It was kept clean with one simple plotline, without thirty thousand complex added subplots to mess up, yet the plotline was deep, complex, and had so much tensity, adorableness, and just all around awesomeness. I can't.
*********************************************************************************
Leave me a comment telling me what Kdrama to watch next guys... I'm still in withdrawal slightly. I need a new drama.