*WHOOPS A LITTLE LATE THIS MONTH SORRY GUYS
Monthly Wish List for this month and what I've read and seen this past month.
Book List:
*synopses may be spoilery if you have not read the previous books in the series. All synopses were found on Goodreads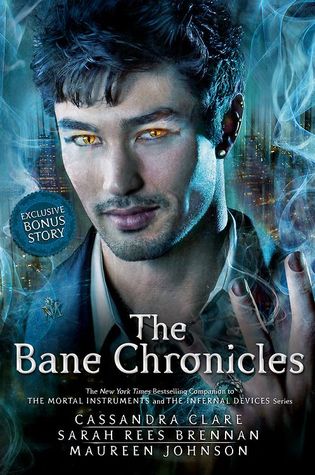 Book: The Bane Chronicles
Authors: Cassandra Clare, Sarah Rees Brennan, Maureen Johnson
Release Date: Nov 11th
Synopsis:
A Collection of Ten Short Stories centred around Magnus Bane. Each short story is going to be published as an ebook followed by a Full Single Print Coming 2014

Ever wondered about the enigmatic, mysterious warlock Magnus Bane? The only character to appear in every Shadowhunter book, Magnus has a past even more shrouded in mystery than his present. I've teamed up with acclaimed YA writers Maureen Johnson and Sarah Rees Brennan to create the Bane Chronicles, the back (and front) story of Magnus told in ten linked tales.

Look for short stories like Vampires, Scones and Edmund Herondale; The Rise and Fall of the Hotel Dumort; Saving Raphael Santiago and What To Buy The Shadowhunter Who Has Everything (And Who You're Not Officially Dating Anyway). Each story will be available as an ebook on a monthly basis starting April 16 with the tale of What Happened In Peru.

Each story will be released monthly online for the next ten months — and then for those who don't read e-books, the full print collection will be available in bookstores and wherever else books are sold after the Chronicles have been finished.
Note From Carmen: I actually haven't read the short stories- I knew I wanted to own the print edition and to save money I decided to wait until the print edition came out. BUT OMG FINALLY TO FIND OUT WHAT HAPPENED IN PERU.
Book: Mortal Heart (Book #3 in His Fair Assassin series)
Author: Robin LaFevers
Release Date: Nov 4th
Synopsis:
Annith has watched her gifted sisters at the convent come and go, carrying out their dark dealings in the name of St. Mortain, patiently awaiting her own turn to serve Death. But her worst fears are realized when she discovers she is being groomed by the abbess as a Seeress, to be forever sequestered in the rock and stone womb of the convent. Feeling sorely betrayed, Annith decides to strike out on her own.

She has spent her whole life training to be an assassin. Just because the convent has changed its mind doesn't mean she has...
Book: Forbidden
Author: Kimberley Griffiths Little
Release Date: Nov 4th
Synopsis:
In the unforgiving Mesopotamian desert where Jayden's tribe lives, betrothal celebrations abound, and tonight it is Jayden's turn to be honored. But while this union with Horeb, the son of her tribe's leader, will bring a life of riches and restore her family's position within the tribe, it will come at the price of Jayden's heart.

Then a shadowy boy from the Southern Lands appears. Handsome and mysterious, Kadesh fills Jayden's heart with a passion she never knew possible. But with Horeb's increasingly violent threats haunting Jayden's every move, she knows she must find a way to escape—or die trying.

With a forbidden romance blossoming in her heart and her family's survival on the line, Jayden must embark on a deadly journey to save the ones she loves—and find a true love for herself.

Set against the brilliant backdrop of the sprawling desert, the story of Jayden and Kadesh will leave readers absolutely breathless as they defy the odds and risk it all to be together.
Note From Carmen: YOU HAVE NO IDEA HOW MANY GOOD THINGS I'VE HEARD ABOUT THIS. I want this so badly.
*********************************************************************************
October Obsessions:
Books
The Blood of Olympus (THE. END. OMG. Series review
here
.)
Other Stuff
Nothing Much to Do (Web Series) (CAN WE JUST.)
What I Read/Watched in October and Didn't Review:
The Raven Boys by Maggie Stiefvater
What I Thought Was True by Huntley Fitzpatrick
Frankenstein, MD. (Web Series)
*side note: THIS IS THE SADDEST READING MONTH I'VE EVER HAD IN MY LIFE. AND I GENUINELY MEAN THAT. DAMMIT SENIOR GRADE OF HIGH SCHOOL.