Monthly Wish List for this month and what I've read and seen this past month.
Book List:
*synopses may be spoilery if you have not read the previous books in the series. All synopses were found on Goodreads.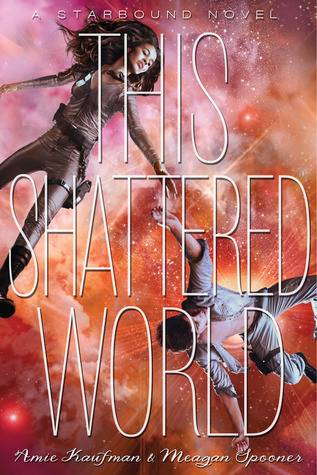 Book: This Shattered World (Book #2 in the Starbound series)
Authors: Amie Kaufman, Meagan Spooner
Release Date: December 23rd
Synopsis:
The second installment in the epic Starbound trilogy introduces a new pair of star-crossed lovers on two sides of a bloody war.
Jubilee Chase and Flynn Cormac should never have met.
Lee is captain of the forces sent to Avon to crush the terraformed planet's rebellious colonists, but she has her own reasons for hating the insurgents.
Rebellion is in Flynn's blood. Terraforming corporations make their fortune by recruiting colonists to make the inhospitable planets livable, with the promise of a better life for their children. But they never fulfilled their promise on Avon, and decades later, Flynn is leading the rebellion.
Desperate for any advantage in a bloody and unrelentingly war, Flynn does the only thing that makes sense when he and Lee cross paths: he returns to base with her as prisoner. But as his fellow rebels prepare to execute this tough-talking girl with nerves of steel, Flynn makes another choice that will change him forever. He and Lee escape the rebel base together, caught between two sides of a senseless war.
Note From Carmen: WHO ELSE IS SUPS EXCITE FOR THIS? I'm a little sad it's not Lilac and Tarver.... but hey I'm sure it'll be just as great.
Book: Gathering Darkness (Book #3 in the Falling Kingdoms series)
Author: Morgan Rhodes
Release Date: December 9th
Synopsis:
In GATHERING DARKNESS, book three of the New York Times bestselling Falling Kingdoms series, the stakes have never been higher as three teams push forward on a race to find the Kindred, the four elemental crystals possessing ancient all-powerful magic, first:
Prince Magnus has just witnessed torture, death, and miracles during the bloody confrontation that decimated the rebel forces. Now he must choose between family and justice as his father, the cruel King Gaius, sets out to conquer all of Mytica. All Gaius needs now are the Kindred - the four elemental crystals that give godlike powers to their owner. But the King of Blood is not the only one hunting for this ancient, storied magic...
• THE KRAESHIANS join the hunt. Ashur and Amara, the royal siblings from the wealthy kingdom across the Silver Sea, charm and manipulate their way to the Kindred, proving to be more ruthless than perhaps even the King of Blood himself.
• THE REBELS forge ahead. Princess Cleo and vengeful Jonas lead them, slaying with sweetness, skill, and a secret that can control Lucia's overpowering magic - all so they can use the Kindred to win back their fallen kingdoms.
• THE WATCHERS follow Melenia out of the Sanctuary. They ally in the flesh with King Gaius, who vows to use Lucia's powers to unveil the Kindred.
The only certainty in the dark times is that whoever finds the magic first will control the fate of Mytica... but fate can be fickle when magic is involved.
Note From Carmen: Every time I feel like I'm getting a grasp on this series and can predict what's coming and who I ship, THE BOOK THROWS ME AGAINST THE WALL and is like NOPE HAVE A TASTE OF THIS PLOT TWIST.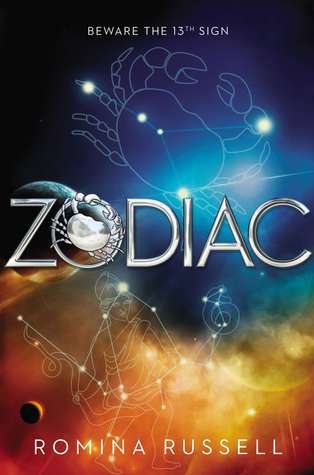 Book: Zodiac (Book #1 of the Zodiac series)
Author: Romina Russell
Release Date: December 9th
Synopsis:
At the dawn of time, there were 13 Houses in the Zodiac Galaxy. Now only 12 remain….
Rhoma Grace is a 16-year-old student from House Cancer with an unusual way of reading the stars. While her classmates use measurements to make accurate astrological predictions, Rho can't solve for 'x' to save her life—so instead, she looks up at the night sky and makes up stories.
When a violent blast strikes the moons of Cancer, sending its ocean planet off-kilter and killing thousands of citizens—including its beloved Guardian—Rho is more surprised than anyone when she is named the House's new leader. But, a true Cancerian who loves her home fiercely and will protect her people no matter what, Rho accepts.
Then, when more Houses fall victim to freak weather catastrophes, Rho starts seeing a pattern in the stars. She suspects Ophiuchus—the exiled 13th Guardian of Zodiac legend—has returned to exact his revenge across the Galaxy. Now Rho—along with Hysan Dax, a young envoy from House Libra, and Mathias, her guide and a member of her Royal Guard—must travel through the Zodiac to warn the other Guardians.
But who will believe anything this young novice says? Whom can Rho trust in a universe defined by differences? And how can she convince twelve worlds to unite as one Zodiac?
Embark on a dazzling journey with ZODIAC, the first novel in an epic sci-fi-meets-high-fantasy series set in a galaxy inspired by the astrological signs.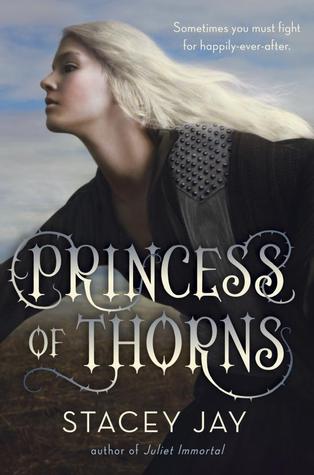 Book: Princess of Thorns
Author: Stacey Jay
Synopsis:
Game of Thrones meets the Grimm's fairy tales in this twisted, fast-paced romantic fantasy-adventure about Sleeping Beauty's daughter, a warrior princess who must fight to reclaim her throne.

Though she looks like a mere mortal, Princess Aurora is a fairy blessed with enhanced strength, bravery, and mercy yet cursed to destroy the free will of any male who kisses her. Disguised as a boy, she enlists the help of the handsome but also cursed Prince Niklaas to fight legions of evil and free her brother from the ogre queen who stole Aurora's throne ten years ago.

Will Aurora triumph over evil and reach her brother before it's too late? Can Aurora and Niklaas break the curses that will otherwise forever keep them from finding their one true love?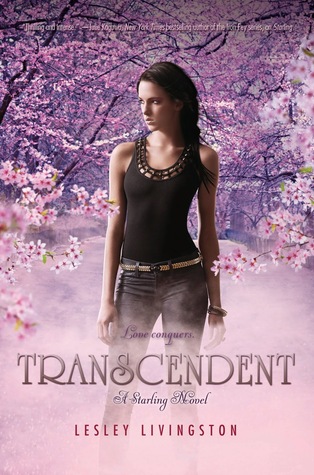 Book:
Transcendent (Book #3 in the Starling series)
Author:
Lesley Livingston
Release Date:
December 23rd
Synopsis:
LOVE CONQUERS
On a storm-swept terrace high above the streets of Manhattan, Mason Starling holds the fate of the world in her hands as her beloved Fennrys lies bleeding at her feet, his life hanging in the balance. The ancient Norse prophecy of Ragnarok stands poised on the knife edge of fulfillment. Mason's transformation into a Valkyrie—a chooser of the slain and the one who will ultimately bring about the end of the world—is complete. Still, she remains determined to thwart her father's apocalyptic desires. Whatever is to come, it won't happen because of what the prophecy foretold, or what Gunnar Starling has planned, or what the fates have already decided. What happens next will be up to Mason and the Fennrys Wolf. The world had better hope they haven't reached the limits of what their souls and swords can survive.
Perfect for fans of Cassandra Clare's Mortal Instruments series, and set in the same universe as Lesley Livingston's much-loved WONDROUS STRANGE trilogy, with roots in Greek, Roman, Norse, Egyptian, and Celtic myths and legends, this thrilling conclusion to the acclaimed Starling trilogy is filled to the hilt with sweeping adventure and soaring romance.
Note From Carmen: SO. EXCITED. I love Fenn way too much.
*********************************************************************************
November Obsessions:
Books:
The Perilous Sea
The Book Thief
Other Stuff:
Nothing Much to Do
Things I Read/Saw in November:
The Many Lives of Ruby Iyer (*Blog Tour coming soon!)
The Hunger Games: Mockingjay Part 1
*again, sad reading month much... sigh